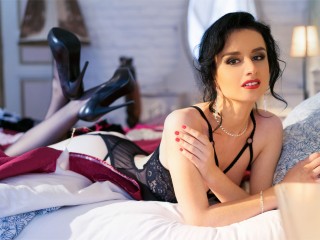 Sometimes we get some tough questions, and we're not quite sure how to answer them. Kathrynne is one of our hottest cam performers, and she's always straight up with men. This vixen loves to educate and teach as well as tease and please. We get emails regularly about what things turn women off. Our cam performers are often a great source of advice about real, live women, and Kathrynne has some awesome advice to give.
There are a handful of things that turn me off. Here's a quick list. If you avoid these things, you're ahead of the game with most ladies.
When I as a woman take extra care in dressing for a date, only to me greeted by some slob in jeans and old concert t-shirt with flip flops or sneakers that are falling apart drives me nuts. So often i see these lovely young ladies all dressed up for a night out: dinner and a movie: and the guy looks like he rolled out of bed, with jeans, or worse yet, sweat pants hanging off his ass. And those AXE commercials guys seem to fall for: It doesn't mean to take a bath in the stuff!
I hate when men i don't know very well start calling me cutsie pet names, instead of using my given name. Its either a. condescending, or b. shows they cant remember my name. Save the cute stuff for sexy time and you'll have a sweet surprise.
I can't stand whiny, pouty guys who are insecure and/or use passive aggressive behavior. Own who you are and show some confidence. You'll find yourself getting your way more often. I love strong confident men, either dominant or submissive in nature.
Poor hygiene or poor manners
On his cell phone during a date- with another woman is worse. I don't mind sharing, but I want my special time to myself.
Socks with sandals or poorly kept feet.
The first things a woman will notice: eyes, smile and hair, in that order, so don't worry about being too fat or skinny, just do the best with the things you have. Making an effort is the biggest turn-on for almost any woman! We love to know you tried.